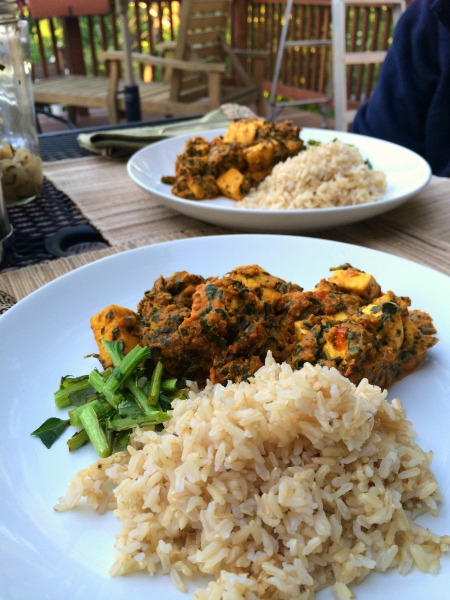 Try as I might, whenever I go to Woodlands, my favorite neighborhood Indian restaurant, I can't seem to not order Palak Paneer. Trying new dishes is one of the most delightful things in my book, but Palak Paneer is one of my favorites and always finds its way to the table when I go out for Indian food.
A traditional Palak Paneer is made with pureed spinach cooked with Indian spices and paneer, a firm cubed Indian cheese. With all of the kale growing like wildfire in our garden, I decided to try my own version of palak paneer with kale.
I made it a second time with a combination of kale and mustard greens. Both were equally delicious. You can use spinach, kale, mustard greens, swiss chard, collards, or a combination of greens in this dish. It's a great way to get your greens.
Dark leafy greens are a nutritional powerhouse and will give you energy, clean your blood, fill your body with micronutrients (vitamins, minerals, and other phytochemicals), help your body detoxify, and chase away those disease-causing free radicals.
Dark leafy greens like kale, collards, mustard greens, and chard all get top scores in terms of nutrient density on Dr. Fuhrman's ANDI list.
For a ready-made version of paneer, I used a firm tofu. (Twin Oaks Organic Extra Firm Tofu is my absolute favorite). Lightly fried until it is slightly golden, this was an excellent and quick vegan alternative to yummy paneer.
Now that I can make a good homemade Palak Paneer, maybe, just maybe, I'll be able to order something else on my next trip to Woodlands.
My Vegan Palak Paneer (Tofu in Curried Kale Sauce)
Serves 2-3.Prep time: 10 minutes: Cook time: 30 minutes.
Ingredients:
2 tablespoons olive oil
1 lb. package extra firm tofu
1 large onion, finely chopped
4 cloves garlic, chopped
1 teaspoon fresh ginger, finely chopped
3-4 medium tomatoes, diced
1 1/2 teaspoons curry powder
1 teaspoon coriander
1 teaspoon ground cumin
3/4 teaspoon turmeric
freshly ground black pepper
1 very large bunch of kale (or a combination of greens, such as spinach, kale, swiss chard, mustard greens, about 1 pound in total)
3 tablespoons yogurt (Greek yogurt for a dairy version or soy yogurt for dairy-free)
sea salt to taste
Instructions:
1. Cut the tofu into cubes about 1/2 inch to 1 inch in size. Heat olive oil in a non-stick skillet on medium high. Add the tofu in a single layer and cook it until it is lightly golden on all sides. Remove from skillet and set aside.
2. Heat a little more olive oil in the skillet and cook the onions until soft and translucent. Add the garlic and fresh ginger and cook another minute. Add the tomato, curry, coriander, cumin, and turmeric and cook until the spices are fragrant and the tomatoes begin to break down and release their juice.
3. Add the kale or other greens, stir well, and cover. Cook until the kale is completely wilted, about 3-5 minutes. Transfer the mixture to a food processor or high-speed blender and blend until almost smooth. Pour it back in the skillet, add the yogurt and salt to taste. Add the tofu to the skillet and simmer on low for 10 minutes to allow the flavors to come together.
Serve over rice or with Indian naan.